Next Steps: Entrepreneur vs Employee
Happy New Month!
I started thinking about writing a post on this after I picked this from www.entrepreneur.com -
"Being an entrepreneur doesn't require owning a business any more than being an accountant requires working for an accounting firm."
The writer - Nathan Chan, Publisher of Foundr Magazine - goes on to explain how your mindset classifies you as either a Entrepreneur or an Employee.
Similarly related to your mindset, this post focuses on questions that you should ask yourself if you are struggling to decide if leaving your organisation to be an entrepreneur is worth it.
Let's start with the basic questions ...
Are you tired of Working for Someone Else?
This stems from the uncertainty of whether or not we are going to have a job at the end of the week - the 'what ifs' and 'what nexts'.
Are you ready to try Something Different?
This is only a starting point. Simply being tired of driving yourself harder and sacrificing everything to build someone else's empire is not enough to be convinced that you can build an empire of your own. There are uncertainties associated with being an entrepreneur which you have to be ready for.
Why do you Work?
If you are all about the money 'alone', then you should consider keeping your job. Entrepreneurship entails facing new challenges which could be bare complex. The mindset and vision present before starting your own organisation could be your driving force or make you give up totally.
If you have a meaningful purpose and are all about making a difference and a positive impact in the community (in addition to getting the coins of course), then entrepreneurship could be for you. Although staying on the corporate path would most likely give more financial security, if you are  convinced of better ways of sustaining a culture, then do not be scared to take a shot at entrepreneurship.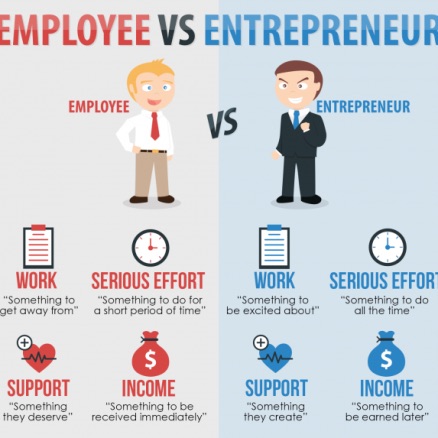 Source - nateleung.com
How Creative are You?
This revolves around long-term as well as short-term goals. Ask yourself - 'How long will my initial idea survive?'. Undoubtedly, our dynamic society constantly craves for creatives. As an employee, it could be incredibly comfortable to get lost in a sea of employees by simply acting as instructed, with little or no independent opinions (if you do not care for an career progression that is). Thus, if you don't mind the idea of suppressing your creativity, then keep your job.
'Entrepreneurship is not for everyone.'
Being an entrepreneur = being creative. Be prepared to build on your original idea, and live up to your potential. Entrepreneurship is not taught in schools thus the focus is figuring where there is a void in the society and creating opportunities around that.
Are you ready to put in extra hours?
Entrepreneurship steers you away from your regular '9-5' job. Yes, you don't automatically get some days off as an entrepreneur. You have to available 24/7 for your business - including midnight meetings due to time difference. It takes a conscious effort to set work aside to enjoy birthdays, public holidays, weekends, etc.
However, this does not indicate a lack of freedom but rather complete freedom. The pressure to wake up at 5am daily is lost when your work is based on your passion. This type of person is excited about the general idea of work and isn't looking to only put in serious effort for a short amount of time until that task is over.
Are you ready to know it all?
No, you are not expected to be active in all aspects of the business but the minimum requirement is that you have an idea of what each department is about. Your 'passion' is not limited to a sector.
An employee focuses on the reason why he/she is hired. A marketing/business consultant is simply interested in that line of job only, not transcending IT, or administration. An entrepreneur running a consultancy firm is involved in marketing, promoting, and administrative aspects to ensure the overall growth of the firm.
Are you a Risk-Taker?
Employees are ready to take on the task (willingly or reluctantly) to ensure job security. This does not necessarily involve taking on extra responsibility or risks beyond what they have been tasked with. Taking on too much might be a bit scary as 'over-doing' it might just be the end of your regular paycheck, if something goes wrong.
However, Entrepreneurship is closely knitted with taking on responsibilities, including those that come in form of risk taking. Hinging on the 'creativity' aspect, trying to take on just as much as you possibly can, may determine the growth of the company. The entire business would potentially be a reflection of the level of responsibility taken. This doubles up the experiences you'd ordinarily earn as an employees, which are very valuable assets.
Finally, realise that not everyone can be an entrepreneur. Just because it works for some does not mean it will work for you. Being an entrepreneur is not necessarily better than being an employee as they both have pros and cons.
Most importantly, find your strength and build on it - either as an entrepreneur or an employee.
This list is not exhaustive and only includes some of the basic questions.
---
About GradRange
GradRange is an Employability and Career Development Platform that helps early-career candidates navigate the rapidly changing World of Work. We challenge the barrier of getting into the workforce by empowering job-seekers, students and young professionals with the skills and knowledge that will help them successfully transition from education to employment. Our goal is to tackle unemployment by investing in the future workforce.
View all Posts | Visit our Website
---
Interested in building relationships and improving your brand? Sign up as a Guest Writer
---
---
*Over 60% of young individuals in Nigeria between age 15 – 23 are unsure of their future and how to advance into the World of Work.
To this end, Gradrange seeks to bridge the gap between the classroom and the rapidly changing labour market by educating young individuals about the culture, opportunities, challenges, and future for employment in various fields.*